Fifteen Lovers - A Collection of Feelings from Peoples Heart
We all have our ups and downs of our life. Even the world's most known People have experienced their share of setbacks and hardships. And there's much to learn from their misfortune as well as their success. So, let's take a look at some of famous People and unknown Author remarkable quotes to get energized, inspired and love more.
Love Quotes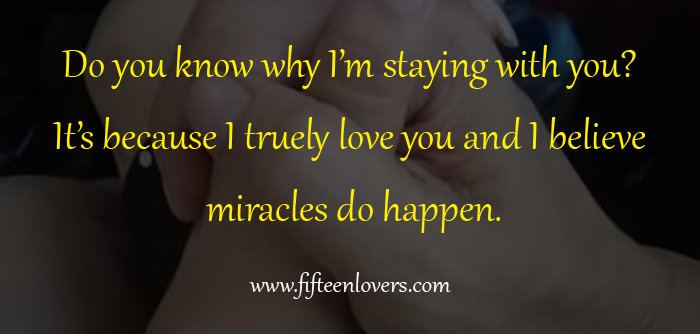 Do you know why I'm staying with you? It's because I truely love you and I believe miracles do happen.
---
The moment I saw you, I knew I Love You no matter what the situation is.
---
Whenever you're having a bad day, remember this. I LOVE YOU.
Author unknown
---
I love you. I knew it the minute I met you.
Pat, in Silver Linings Playbook
---
Love is not only something you feel, it is something you do.
David Wilkerson
---
I never wanted to be your whole life – just your favorite part.
Author unknown
---
Every day and night, my mind is filled with thoughts of you. As long as the sun continues to shine, you can be sure that my heart will remain yours.
Unknown
---
When I tell you I love you, I don't say it out of habit. I say it to remind you that you're the best thing that ever happened to me.
Unknown
---
I held her close to me with my eyes closed, wondering if anything in my life had ever been this perfect and knowing at the same time that it hadn't. I was in love, and the feeling was even more wonderful than I ever imagined it could be.
A walk to remember
---
With the whole world crumbling, we pick this time to fall in love.
Ilsa in Casablanca
---
I love those hugs where you just don't want to let go.
---
Inspirational Quotes
If the plan doesn't work, change the plan, but never the goal.
Author Unknown
---
A comfort zone is a beautiful place, but nothing ever grows there.
Author Unknown
---
Never give up on a dream just because of the time it will take to accomplish it. The time will pass anyway.
Earl Nightingale
---
Instead of wondering when your next vacation is, maybe you should set up a life you don't need to escape from.
Seth Godin
---
If it scares you, it might be a good thing to try.
Seth Godin
---
Don't live the same year 75 times and call it a life.
Robin Sharma
Never apologize for having high standards. People who really want to be in your life will rise up to meet them.
Ziad K. Abdelnour
Avoiding failure is to avoid progress.
Author Unknown
---
I never dream of success. I worked for it.
Estee Lauder
---
There is no way to happiness. Happiness is the way.
Thich Nhat Hanh
---
The best and most beautiful things in the world cannot be seen or even touched, they must be felt with the heart.
Helen Keller
I am not afraid of tomorrow, for I have seen yesterday and I love today!
William Allen White
Somewhere, something incredible is waiting to be known.
Sharon Begley
---
Quotes from famous People
Your time is limited, so don't waste it living someone else's life. Don't be trapped by dogma – which is living with the results of other people's thinking.
Steve Jobs
---
Creativity is intelligence having fun.
Albert Einstein
---
I destroy my enemies when I make them my friends.
Abraham Lincoln
---
The god of love lives in a state of need. It is a need. It is an urge. It is a homeostatic imbalance. Like hunger and thirst, it's almost impossible to stamp out.
Plato
---
A hero is born among a hundred, a wise man is found among a thousand, but an accomplished one might not be found even among a hundred thousand men.
Plato
---
In the end, it's not the years in your life that count. It's the life in your years.
Abraham Lincoln
---
Always remember that you are absolutely unique. Just like everyone else.
Margaret Mead
---
The future belongs to those who believe in the beauty of their dreams.
Eleanor Roosevelt
---
Keep smiling, because life is a beautiful thing and there's so much to smile about.
Marilyn Monroe
---
If you are not willing to risk the usual, you will have to settle for the ordinary.
Jim Rohn
---
Twenty years from now you will be more disappointed by the things that you didn't do than by the ones you did do. So, throw off the bowlines, sail away from safe harbor, catch the trade winds in your sails. Explore, Dream, Discover.
Mark Twain
Storyline: A world where it has been established that people routinely swing between slightly different parallel worlds. Koyomi Takasaki, who...
Read More